21.09.2017 | Sonderheft 6/2019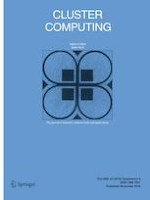 Enhanced intrusion detection and prevention system on cloud environment using hybrid classification and OTS generation
Zeitschrift:
Autoren:

V. Balamurugan, R. Saravanan
Abstract
Cloud environment is an assembly of resources for furnishing on-demand services to cloud customers. Here access to cloud environment is via internet services in which data stored on cloud environment are easier to both internal and external intruders. To detect intruders, various intrusion detection systems and authentication systems was proposed in earlier researches which are primarily ineffective. Many existing researchers were concentrated on machine learning approaches for detecting intrusions using fuzzy clustering, artificial neural network, support vector machine, fuzzy with neural network and etc., which are not furnishing predominant results based on detection rate and false negative rates. Our proposed system directed on intrusion detection system and it uses cloudlet controller, trust authority and virtual machine management in cloud environment. We propose two novel algorithms such as (i)
packet scrutinization algorithm
which examines the packets from the users and (ii) hybrid classification model called "NK-RNN" which is a combination of
normalized K-means
clustering algorithm with
recurrent neural network
. For preventing the user from intruders, we propose a
one time signature
for cloud user in order to access the data on cloud environment. Our proposed classifier effectively detects the intruders which are experimentally proved by comparing with existing classification models. Thus our proposed results are expressed by packet loss ratio, average packet delay, throughput, detection rate, false positive rate and false negative rate.