05.09.2018 | Energy materials | Ausgabe 2/2019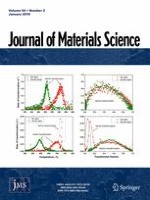 Enhanced lithium storage capability enabled by metal nickel dotted NiO–graphene composites
Zeitschrift:
Autoren:

Jin Chen, Zhao Wang, Jiechen Mu, Bing Ai, Tiezhu Zhang, Wenqing Ge, Lipeng Zhang
Wichtige Hinweise
Electronic supplementary material
Abstract
The electrochemical performance of Li-ion batteries, which is limited by large volume changes and low intrinsic conductivity, can be improved by using a NiO–graphene composite as an electrode. Herein, we constructed metallic Ni-dotted NiO flakes on folded graphene and evaluated the electrochemical performance of the resulting composites. Introduction of graphene produced an excellent 2D structure that led to the homogeneous growth of Ni–NiO particles and improved the structural stability and conductivity of the final material. After 50 cycles, the reversible discharge capacity of Ni–NiO/G-2 reached 660.7 mAh g−1 at a current density of 100 mAh g−1 and approximately 75.0% of the capacity was maintained relative to the initial discharge capacity. The Ni–NiO/G-4 electrode displayed excellent high-rating performance, and the metallic Ni particles effectively improved the reversibility of solid electrolyte interface (SEI) films. Test results showed that the decomposition/regeneration of SEI films influenced the charge/discharge capacities of the electrodes during cycling.