10.08.2018 | Ausgabe 6/2018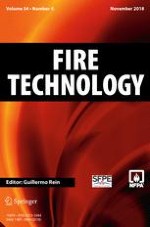 Enhanced Oil Spill Clean-Up Using Immersed Thermally Conductive Objects
Zeitschrift:
Autoren:

Kemal S. Arsava, Vasudevan Raghavan, Ali S. Rangwala
Wichtige Hinweise
Electronic supplementary material
Publisher's Note
Springer Nature remains neutral with regard to jurisdictional claims in published maps and institutional affiliations.
Abstract
A method for rapid burning of hazardous oil spills on water is investigated with the ultimate goal of designing a burner for faster clean-up of hazardous spills in offshore and other remote environments. A thermally conductive object, which comprises of a 0.25 cm thick copper porous mesh, with or without conical copper coils, is used. The influence of this object on the burning rate of an Alaska North Slope crude oil slick (1 cm thick) on saline water is studied. For the mesh-alone case, heat from flame is transferred to the mesh, which rapidly gets heated up and transmits the heat to the oil slick. This heat transfer is much higher than that in the baseline case. In the case with conical coils, which are engulfed in the flame, the heated up coils transfer the heat to the copper mesh more effectively. Thus, the object enhances the mass burning rate. Experimental results reveal that the copper mesh reaches a temperature higher than the boiling point of the oil, such that onset of nucleate boiling is possible. The mesh-coil system is able to burn thin slick of oil resting on water achieving an efficiency of ~ 400% above baseline. A simple integral model is also proposed to predict the temperature profiles in mesh, oil, and water layers. The predicted temperature profiles show good agreement with the experimental results. A parametric study using the integral model is also reported. The model can be used as a guideline to optimize the mesh porosity and thickness for different hazardous spill scenarios.