01.03.2015 | Original Paper | Ausgabe 6/2015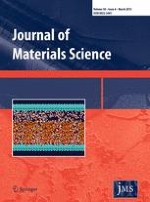 Enhanced photocatalytic activity of TiO2@mercapto-functionalized silica toward colored organic dyes
Zeitschrift:
Autoren:

Hwan Hui Yun, Jung Soo Kim, Euk Hyun Kim, Sang Kyoung Lee, Jin Woo Kim, Hyung Jun Lim, Sang Man Koo
Wichtige Hinweise
Electronic supplementary material
The online version of this article (doi:
10.​1007/​s10853-015-8823-5
) contains supplementary material, which is available to authorized users.
Abstract
Core–shell-type TiO2@mercaptopropyl-functionalized silica (MPS) particles were prepared for enhanced photocatalytic performance of TiO2. The MPS particles were adopted in the composite-type photocatalyst design so as to enhance the photo-catalytic activity through the chemical interaction between chemically modified substrate particles and organic dye molecules, although they do not have photocatalytic activity. Three organic dyes, rhodamine B, rhodamine 6G, and methyl orange, were selected for testing dye adsorption characteristics and photocatalytic activities of the TiO2@MPS particles, commercial P25, and unsupported TiO2 nanosols. Rhodamine B and rhodamine 6G dyes were adsorbed much more on the TiO2@MPS particles than P25, by factors of 6 and 43, respectively, while methyl orange molecules were adsorbed more readily on P25. Such difference in the dye adsorption characteristics of the two photocatalysts may be related with available functional groups and the dyes. This would lead to enhanced photocatalytic degradation of the dyes because of combined chemical and physical adsorption mechanisms. Toward the two rhodamine dyes, the TiO2@MPS particles show significantly enhanced photocatalytic activity per TiO2 than P25 under both UV and visible light irradiation. Especially under visible irradiation, the degradation rate constants of rhodamine B and rhodamine 6G molecules per TiO2 were higher, 18 and 45 times, respectively, for the TiO2@MPS particles than for P25. Toward methyl orange dye, the degradation rate constant per TiO2 was lower for the TiO2@MPS particles than for P25 under UV irradiation but it was eight times higher under visible irradiation. The TiO2@MPS particles were recyclable and their photocatalytic activity did not change at all at least for three repeated photo-degradation tests.