01.10.2020 | Original Article | Ausgabe 19/2020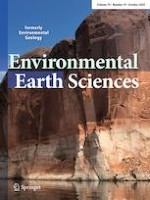 Enhanced sonophotocatalytic degradation of paracetamol in the presence of Fe-doped TiO2 nanoparticles and H2O2
Zeitschrift:
Autoren:

Hui Cheng Yap, Yean Ling Pang, Steven Lim, Chin Wei Lai, Ahmad Zuhairi Abdullah
Wichtige Hinweise
Electronic supplementary material
Publisher's Note
Springer Nature remains neutral with regard to jurisdictional claims in published maps and institutional affiliations.
Abstract
The presence of pharmaceutical compounds, particularly, paracetamol in water is of significant environmental concern due to their undesirable effects on aquatic organisms and poor biodegradability. The present work investigated the efficient degradation of paracetamol in water using sonophotocatalytic process in the presence of iron (Fe)-doped titanium dioxide (TiO2) nanoparticles. The effects of Fe doping into TiO2 and calcination temperatures were investigated using field emission scanning electron microscopy, energy-dispersive X-ray spectroscopy, X-ray diffraction, nitrogen adsorption–desorption analysis and X-ray photoelectron spectroscopy. It was discovered that 3 wt% Fe dopants into TiO2 nanoparticles with suitable calcination temperature at 600 °C could improve the sonophotocatalytic activity remarkably toward the degradation of paracetamol. The degradation efficiency of 100% was achieved under optimal experimental conditions, namely 5 mg/L initial paracetamol, 1 g/L 3 wt% Fe-doped TiO2-600, solution pH of 5, 0.5 mM of hydrogen peroxide (H2O2) after 30-min ultrasonic power of 296 W, ultrasonic frequency of 50 kHz and ultraviolet wavelength of 302 nm. These findings are crucial for designing Fe-doped TiO2 nanoparticles with high catalytic performance for the degradation of paracetamol and appeared as an alternative solution to treat pharmaceutical compounds effectively.