10.02.2021 | Ausgabe 2/2021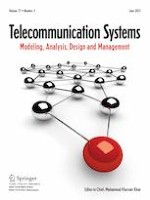 Enhanced target detection using a new combined sonar waveform design
Zeitschrift:
Autoren:

Omid Pakdel Azar, Hadi Amiri, Farbod Razzazi
Wichtige Hinweise
Publisher's Note
Springer Nature remains neutral with regard to jurisdictional claims in published maps and institutional affiliations.
Abstract
In this paper, a method for combining wideband and narrowband waveforms is proposed to improve target detection in shallow water environments. In this regard, a sonar waveform design suitable for target speed has been proposed too. The method uses a wideband frequency-modulated waveform for high range resolution in a reverberation environment and the Doppler-sensitive (DS) waveform to improve the detection of moving targets. The proposed combined waveform is mathematically modeled, and the Calculating of ambiguity function (AF) is performed. The AF and autocorrelation function (ACF) of the designed waveform indicate both DS and fair range resolution features simultaneously exist. So the initial range resolution for target detection is preserved. The Peak to Sidelobe level (PSL) ratio of the proposed waveform is at least 25 dB more than the previous state of the art waveforms. Calculating the Q-function criterion for the designed waveform reveals the superior reverberation suppression and detection performance with respect to the state of the art waveforms. After calculating the reverberation channel model, waveform echo, and detection of the target, the probability of detection (Pd) versus signal-to-reverberation ratio (SRR) was simulated by the Monte Carlo method. It was shown that the proposed waveform improved the probability of target detection by 20 dB, comparing to the base waveforms.