25.08.2016 | Original Paper | Ausgabe 5/2017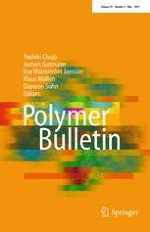 Enhanced thermal and mechanical properties of liquid crystalline-grafted graphene oxide-filled epoxy composites
Zeitschrift:
Autoren:

Laifu Song, Shaorong Lu, Xiane Xiao, Bo Qi, Zihai He, Xu Xu, Baolin Rao, Jinhong Yu
Abstract
Epoxy composites with biphenyl liquid crystalline polyester (BLCP)-grafted graphene oxides (GO) as inclusions were prepared successfully. The thermal and texture analyses of BLCP were characterized by DSC and POM. The results show that the texture structure of BLCP turned into fan texture from woven texture with increasing temperature and present double texture structure. More importantly, the thermal and mechanical properties of epoxy composites could be improved by incorporating BLCP-grafted GO (BLCP-GO). The epoxy composite with only 0.5 wt% BLCP-GO produced an increase in the initial decomposition temperature (
T
d
) by 28 °C and glass transition temperature (
T
g
) by 17.2 °C when compared with the neat epoxy. Moreover, for the mechanical properties tests, the composites with 1.0 wt% BLCP-GO exhibit an increase in impact strength, tensile strength, flexural strength and flexural modulus by 103, 52, 66, and 56 %, respectively, compared with the neat epoxy resin. These excellent performances of the graphene–epoxy composites have a great potential for applications in aerospace and other electrical devices.