04.06.2018 | Chemical routes to materials | Ausgabe 17/2018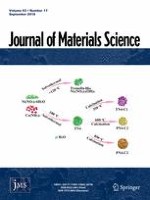 Enhanced water resistance and energy performance of core–shell aluminum nanoparticles via in situ grafting of energetic glycidyl azide polymer
Zeitschrift:
Autoren:

Chengcheng Zeng, Jun Wang, Guansong He, Chuan Huang, Zhijian Yang, Shijun Liu, Feiyan Gong
Wichtige Hinweise
Electronic supplementary material
Abstract
The application of aluminum nanoparticle is limited due to its passivation Al2O3 layer even though it owns extreme specific surface and high reaction activity. In this work, the aluminum nanoparticles were modified via in situ grafting onto energetic glycidyl azide polymer (GAP) to improve the stability and energy-releasing performance. The results showed that GAP was grafted on the nano-aluminum surface with chemical bonds of –O–(CO–NH)– formed, and the thickness of shell layer of GAP could be tuned by changing the relative ratio of reactants. Furthermore, modified nanoparticles show hydrophobicity with static water contact angle changing from 20.2° to 142.4°. Significant increasing stability of aluminum nanoparticles is obtained in hot water, which is evidenced by that around 10 wt% of modified aluminum is reacted after 210 min. Based on the core–shell configurations, (Al@GAP)/fluorine composites were prepared. The violent combustion phenomenon and high release rate profiles revealed high energy-releasing performance with the assistance of GAP. This synthetic strategy may provide an effective approach to prepare other metal nanoparticles, and possess potential application value in the fields of metallized explosives and high-energy structure with energy release.