01.08.2016 | Original | Ausgabe 1/2017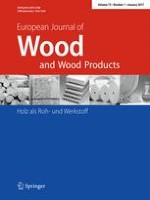 Enhanced water resistance of extruded wood–polypropylene composites based on alternative wood sources
Zeitschrift:
Autoren:

K. C. Krause, M. Müller, H. Militz, A. Krause
Abstract
Polypropylene wood flour composites made from short-rotation coppice (SRC) and low valued beech wood (
Fagus sylvatica
) were investigated with respect to their suitability for use in the production of wood–polymer composites (WPC). An industrial wood source consisting of spruce wood flour (
Picea abies
) was used as reference material. All composites were compounded on a co-rotating twin screw extruder containing either 60 or 70 wt% wood flour. Consolidation was done by profile extrusion. Mechanical and physical properties of the composites were investigated. The wood sources were characterized concerning their particle length and shape by the use of a dynamic optical particle analysis system. X-ray microtomography (µ-CT) was used to study the dispersion of wood particles and the internal composite structure. However, all composites based on alternative wood sources showed an equivalent performance regarding mechanical properties compared to the composite reference. Composites containing beech wood flour showed notably reduced water absorption rates, whereas the composites based on SRC wood flour revealed significantly reduced moisture content compared to reference composites. A different particle length distribution was depicted between the industrial wood source and three other investigated wood sources. Moreover, all wood flour sources were characterized by a mean aspect ratio up to 3:1. The X-ray microtomography illustrated morphological differences between composites. Based on the X-ray images, an alignment along the melt flow and a decent encapsulation by polypropylene were shown.