08.05.2019 | Original Paper: Sol–gel and hybrid materials for catalytic, photoelectrochemical and sensor applications | Ausgabe 1/2019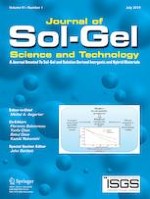 Enhancement of lipase transesterification activity by immobilization on β–cyclodextrin-based polymer
Zeitschrift:
Autoren:

Lucas S. Martin, Annie A. Cerón, Deise Molinari, Flávio F. De Moraes, Pedro A. Arroyo, Heizir F. De Castro, Gisella M. Zanin
Wichtige Hinweise
Supplementary information
Publisher's note:
Springer Nature remains neutral with regard to jurisdictional claims in published maps and institutional affiliations.
Abstract
Silica–β-cyclodextrin matrices were prepared by the sol–gel technique using tetraethoxysilane as precursor and different concentrations (0.5–4.0%) of the organic component, β-cyclodextrin (β-CD). Hybrid matrices were activated with glutaraldehyde to introduce functional groups for the attachment of
Burkholderia cepacia
lipase, used here as a model enzyme. The goal was to produce biocatalysts with high activity and satisfactory properties for transesterification reactions. The biocatalysts exhibited similar hydrolytic activities, coupling yields, and kinetic parameters (
K
m
and
V
max
), but differed in terms of thermal stability and transesterification activity. The best biocatalyst, prepared using 2.0% β-CD, was used to study the influence of oil/alcohol molar ratio on ester yield, viscosity, and residual monoacylglycerol (MG) and diacylglycerol (DG) contents. The molar ratio of palm kernel oil to ethanol had a considerable effect on the formation of ethyl esters and the best performance was achieved with an oil/alcohol molar ratio of 1:6. Under this condition, a high ethyl ester yield, a low residual MG content (<0.5%), and undetectable DG levels were obtained. Kinematic viscosity measurements (40 °C) confirmed the high transesterification yield, as the viscosity of palm kernel oil decreased from 30.13 mm
2
s
−1
to <4 mm
2
s
−1
.
×