01.02.2020 | Ausgabe 2/2020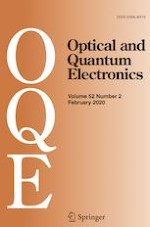 Enhancement of the second harmonic generation in a coupled lens-shaped quantum dots under wetting layer, temperature, pressure, and electric field effects
Zeitschrift:
Autoren:

M. Choubani, D. Makhlouf, F. Saidi, H. Maaref
Wichtige Hinweise
Publisher's Note
Springer Nature remains neutral with regard to jurisdictional claims in published maps and institutional affiliations.
Abstract
In this paper, a theoretical study of the second harmonic generation (SHG) in a coupled lens shaped InAs/GaAs quantum dots is presented within the framework of the compact density-matrix approach and the finite difference method. In literature, many theoretical studies have neglected the wetting layer (WL) effect. As well, other effects such as the pressure, the external electric field, the temperature and the structural dimensions are not introduced together. Furthermore, in many researches only a single quantum dot (SQD) with and without wetting layer is investigated. What is done in this work, a detailed and comprehensive study of a vertically coupled lens-shaped InAs/GaAs coupled to a WL is presented under the external proofs effects mentioned above. Also, the structural dimensions, the electric field, the relaxation rate, the hydrostatic pressure, and the temperature effects are explored in details and the SHG is optimized. We have found out that the wetting layer has been shown to be so influential on the SHG magnitude and on the corresponding resonant energy. So, calculated results show that a strong SHG coefficient can be obtained by choosing a group of the optimized structural dimensions and the external proofs previously mentioned above. With a good choice of these parameters, it's found that the SHG coefficient reaches the order of magnitude of 10−7 m/V, which is larger than the corresponding values obtained with a SQD. Besides, obtained results revealed that a red or a blue-shifted energy can be obtained. This behavior in the SHG gives a new degree of freedom in regions of interest for optoelectronic device applications.