2019 | OriginalPaper | Buchkapitel
Enhancing PAPI with Low-Overhead
rdpmc

Reads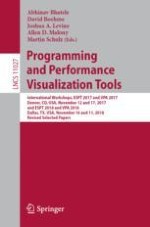 Autoren: Yan Liu, Vincent M. Weaver
Abstract
The PAPI performance library is a widely used tool for gathering self-monitored performance data from running applications. A key aspect of self-monitoring is the ability to read hardware performance counters with minimum possible overhead. If read overhead becomes too large then the act of measurement will start to interfere with the gathered results, adversely affecting the performance analysis.
On Linux systems PAPI uses the perf_event subsystem to access the counter values via the
read()
system call. On x86 systems the special
rdpmc
instruction allows userspace measurement of counters without the overhead of entering the operating system kernel. We modify PAPI to use
rdpmc
rather than
read()
and find it typically improves the latency by at least a factor of three (and often a factor of six or more) on most modern systems. The improvement is even better on machines using a KPTI enabled kernel to avoid the Meltdown vulnerability. We analyze the effectiveness and limitations of the
rdpmc
interface and have gotten the rdpmc interface enabled by default in PAPI.