14.02.2017 | Foundations | Ausgabe 2/2018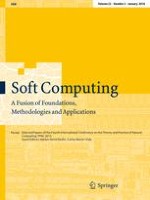 Enhancing point symmetry-based distance for data clustering
Zeitschrift:
Autor:

Sriparna Saha
Wichtige Hinweise
Communicated by A. Di Nola.
Abstract
In this paper, at first a new point symmetry-based similarity measurement is proposed which satisfies the closure and the symmetry properties of any distance function. The different desirable properties of the new distance are elaborately explained. Thereafter a new clustering algorithm based on the search capability of genetic algorithm is developed where the newly developed point symmetry-based distance is used for cluster assignment. The allocation of points to different clusters is performed in such a way that the closure property is satisfied. The proposed GA with newly developed point symmetry distance based (GAnPS) clustering algorithm is capable of determining different symmetrical shaped clusters having any sizes or convexities. The effectiveness of the proposed GAnPS clustering technique in identifying the proper partitioning is shown for twenty-one data sets having various characteristics. Performance of GAnPS is compared with existing symmetry-based genetic clustering technique, GAPS, three popular and well-known clustering techniques,
K
-means, expectation maximization and average linkage algorithm. In a part of the paper, the utility of the proposed clustering technique is shown for partitioning a remote sensing satellite image. The last part of the paper deals with the development of some automatic clustering techniques using the newly proposed symmetry-based distance.