30.05.2021 | Original Article / Originalbeitrag | Ausgabe 3/2021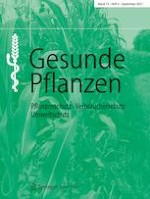 Enhancing Salt Stress Tolerance of Different Pepper (
Capsicum annuum

L.) Inbred Line Genotypes by Rootstock with Vigorous Root System
Zeitschrift:
Autoren:

Omar Abidalrazzaq Musluh Al Rubaye, Halit Yetisir, Firdes Ulas, Abdullah Ulas
Abstract
In this study, pepper (
Capsicum annuum
L.) inbred lines were grafted onto different rootstock genotypes and tested under saline conditions. A hydroponic experiment was conducted in nutrient solution growth system in a growth chamber of Erciyes University, Agricultural Faculty in Kayseri, Turkey. The experiment was conducted in spring 2017 growth season. Two pepper inbred lines (ERÜ-462 and ERÜ-1227) were grafted onto three different pepper rootstocks/genotypes (Scarface F1, 11B14, and Yaocali F1) and grown in 8 L pots filled with continuously aerated nutrient solution under saline conditions (8 dS m
−1
) with three replications. The growth chamber experiment was carried out to determine the effects of salt stress on plant growth, shoot and root dry weights, leaf area, photosynthesis, leaf total chlorophyll (a + b) and carotenoid content, proline content, glycine betaine content, leaf electrolyte leakage, leaf and root macro element concentration in grafted and non-grafted pepper plants. The results indicated that ERÜ-462 grafted on to Scarface and 11B14 rootstock genotypes were more tolerant to salinity than ERÜ-1227 in term of leaf chlorophyll (a + b) content and leaf carotenoid content, photosynthesis, and proline content. Though, higher shoot and root biomass, leaf area formation, root K
+
, Na
+
, Cl
−
contents were observed when ERÜ-1227 grafted on to Scarface and 11B14 rootstock genotypes. Strong rootstock promoted plant growth in pepper plant both under control and saline conditions and significant depression of plant biomass production under saline conditions was observed in both grafted and non-grafted plants. However, grafting onto vigorous rootstocks alleviated negative effects of salinity stress on pepper plants. Scarface and 11B14 were found more tolerant to salinity than non-grafted pepper plants and the other genotypes used as regard to investigated parameters.