01.06.2015 | Ausgabe 2/2015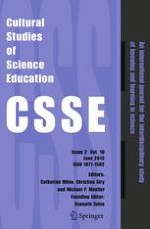 Enracinement

or the earth, the originary ark, does not move: on the phenomenological (historical and ontogenetic) origin of common and scientific sense and the genetic method of teaching (for) understanding
Zeitschrift:
Autor:

Wolff-Michael Roth
Abstract
For many students, the experience with science tends to be alienating and uprooting. In this study, I take up Simone Weil's concepts of
enracinement
(rooting) and
déracinement
(uprooting) to theorize the root of this alienation, the confrontation between children's familiarity with the world and unfamiliar/strange scientific conceptions. I build on the works of the phenomenological philosopher Edmund Husserl and the German physics educator Martin Wagenschein (who directly refers to Weil's concepts) to make a case for the rooting function of original/originary experiences and the
genetic
method to science teaching. The genetic approach allows students to retain their foundational familiarity with the world and their descriptions thereof all the while evolving other (more scientific) ways of explaining natural phenomena.