2013 | OriginalPaper | Buchkapitel
53. Ensuring Sustainability of Bioenergy in Practice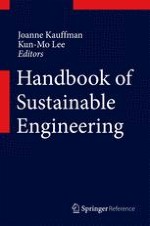 Erstes Kapitel lesen
Autor: Dr. Francesca Farioli
Verlag: Springer Netherlands
Abstract
Access to energy that is sustainable, secure, and affordable is a critical catalyst for economic growth and development. Nevertheless, today 2.7 billion people, mainly in poor countries, still rely only on inefficient and pollutant forms of energy for their basic needs. The development of modern forms of bioenergy for heat, electricity, and liquid fuel for transportation offers an option to address energy poverty and the interrelated issue of lack of development opportunity and environmental degradation. However, this option entails risks and opportunities for African countries that at the beginning of the twenty-first century contain some of the poorest and most technically backward regions in the world and where 80% of population still depend on charcoal and firewood to fulfill their energy needs.
The sustainability of bioenergy largely depends on how the risks associated with its development are managed and opportunities enhanced. It depends also on the crop grown, the land used, the technology employed, and how the bioenergy supply chain is integrated into agricultural, social, and economic system.
A number of approaches and mechanisms aiming to driving sustainability of biofuels in developing countries have been put forward, including market-based certification, national policy formulation, national legislation, good practice guidelines, impact assessments, sustainability planning, and land use planning. They present weaknesses and strengths. Drawing from Competence Platform on Energy Crop and Agroforestry Systems for Arid and Semi-arid Ecosystems in Africa (COMPETE) experience, this chapter examines and elaborates on two of them: (1) the strategic land use mapping aimed to identify available and suitable land for conversion and intensification not detrimental to environment and social aspects and (2) the good practice guidelines, based on a framework for sustainability appraisal, aimed to provide guidance to various stakeholders that wish to start, assess, or review bioenergy initiatives and projects.
The presented approaches provide useful tools to ensure sustainability in practice of bioenergy initiatives. Current achievement, benefits, and shortcoming are examined, and possible way forward considered.