12.08.2016 | Ausgabe 6/2016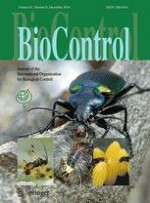 Entomopathogenic fungi as control agents of
Thaumatotibia leucotreta

in citrus orchards: field efficacy and persistence
Zeitschrift:
Autoren:

C. A. Coombes, M. P. Hill, S. D. Moore, J. F. Dames
Wichtige Hinweise
Handling Editor: Nicolai Meyling
Abstract
Entomopathogenic fungal isolates
Beauveria bassiana
(Balsamo) Vuillemin (Hypocreales: Cordycipitaceae) strain G Ar 17 B3 and
Metarhizium anisopliae
(Metchnikoff) Sorokin (Hypocreales: Clavicipitaceae) strain FCM Ar 23 B3 have been identified as effective control agents of the important citrus pest
Thaumatotibia leucotreta
(Meyrick) (Lepidoptera: Tortricidae) wandering fifth instars under laboratory conditions. This study is the first report on the ability of these isolates to persist and reduce
T. leucotreta
infestation in commercial citrus orchards in South Africa. A reduction in pest infestation of between 28 and 82 % upon trial completion was reported. Both isolates were recovered from soil samples collected five months post-application with high host density and moderate to high soil moisture favouring recovery. Low soil moisture negatively influenced the persistence of both isolates and the control efficiency of
B. bassiana
. These results provide evidence and support for the future use of these isolates against
T. leucotreta
thus warranting further investigation.