2017 | OriginalPaper | Buchkapitel
22. Entrepreneurial Alertness and Opportunity Identification 3.0: Yes, We
Can

Talk Empirical!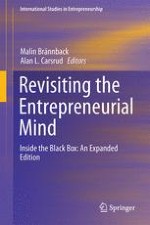 Erstes Kapitel lesen
Autoren: C. M. Gaglio, Susan Winter
Abstract
The Internet of Things and social media not only produce a plethora of radical innovations that clearly illustrate the concept of creative destruction; these events are also accompanied by detailed public records of innovations, companies, and entrepreneurs who have succeeded or failed. The sheer number of events and the amount of data represent a golden opportunity for the empirical investigation of alertness and opportunity identification. However, a reading of the literature 2009–2015 gives the impression that, with few exceptions, opportunity identification scholars have not taken full advantage of the new events but continued a discussion of the trends noted in our previousliterature review.
While we do update those trends and make note of the new variables that have emerged, the purpose of this chapter is to focus on and explore several notable exemplars of high quality empirical conceptualizations, methods and techniques that capture the complexity of opportunity identification yet facilitate rigorous empirical study. We urge scholars and graduate students to incorporate the qualities of these exemplars into their own research programs.
We also address some fundamental issues about the empirical investigation of alertness and entrepreneurial opportunities that have created unnecessary distractions: (1) entrepreneurial opportunities are indeed empirical and part of the social fact that is the economic marketplace; (2) because entrepreneurial opportunities are part of the economic marketplace, they are social phenomena; (3) the discipline needs to acknowledge the different communities of interest who seek ownership of the words 'opportunity' and 'entrepreneur' and hence, their investigation. We urge scholars to turn their attention to the munificence of events and data now available.