2017 | OriginalPaper | Buchkapitel
3. Entrepreneurial Myopia and Succession-Based Crises in Family Businesses: A Strategic Options Perspective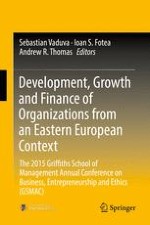 Erstes Kapitel lesen
Autoren: Silvia Fotea, Jörg Freiling, Daniel Neagoie
Abstract
It is often suggested that the typical governance structures of family businesses provide them with a long-term horizon of strategic decision-making and a certain kind of stability. However, in case of business successions, family businesses are confronted with a new situation that challenges the former balance and marks a transition to a new one. It is hard to prepare for such situations, so in case of such transitions, the number of alternatives to find a new "balance" is rather restricted.
We posit that in times of business successions within family firms, the entrepreneurial orientation suffers a temporary wear-out of entrepreneurial orientation and action. Whereas the predecessors prepare to leave the company (or have already done so), a successor is, at least in most cases, not yet in sight. Against this background, the phenomenon of entrepreneurial myopia occurs, i.e., a limited entrepreneurial orientation and action. There may be different reasons for this problem. This paper addresses entrepreneurial myopia in terms of lacking real options. Real option thinking implies preparing the firm for an uncertain and complex future by proactively developing useful strategic alternatives that may be applied whatever may happen. The paper claims that business successions in family businesses are typical instances where alternatives are lacking or small in number so that decision-making leads to unfavorable results. We apply strategic option thinking to illuminate this problem and to find out ways to cope with it.
(Why) Does entrepreneurial myopia – i.e., a limited entrepreneurial orientation and action materialized in a reduced and non-entrepreneurial set of options – occur in family business succession? (If so) What kind of myopia can be observed, what are the reasons for a rather small set of options in business successions, and what are the potential solutions to overcome this condition?
In order to develop an answer to these research questions, this paper uses a transdisciplinary framework of analysis to explore the potential of strategic real option theory to enhance and improve the business succession situation. The unit of analysis is the organizational level.