01.02.2011 | Research Article | Ausgabe 1/2011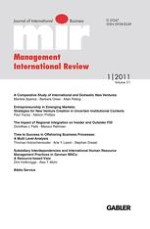 Entrepreneurship in Emerging Markets
Strategies for New Venture Creation in Uncertain Institutional Contexts
Zeitschrift:
Autoren:

Sen. Lect. Paul Tracey, Prof. Nelson Phillips
Abstract
This paper focuses on the importance of the institutional context in shaping the nature of entrepreneurship in emerging markets. More specifically, the paper argues that while the high degree of institutional uncertainty in emerging markets often acts as a barrier to entrepreneurship, it can also provide important opportunities for entrepreneurs.

We argue for the usefulness of recent work in neo-institutional theory as an approach to understanding the institutional context of emerging economies, and in particular for exploring the relationship between institutional uncertainty and entrepreneurship in emerging markets.

Drawing on neo-institutional theory, the paper develops a typology of possible institutional strategies available to entrepreneurs in emerging markets. Three strategies are identified: institutional brokering, spanning institutional voids, and bridging institutional distance. The success factors associated with each strategy are also considered. The paper concludes with a discussion of the implications of the framework for theory development and points to a number of areas for future research.