2018 | OriginalPaper | Buchkapitel
Entrepreneurship's Relationship to CSR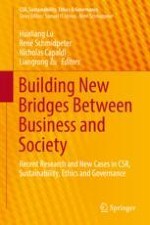 Autor: Ph.D. Stephen R. C. Hicks
Abstract
Where does business ethics begin? The Corporate Social Responsibility model of business ethics has been a leading paradigm, but its practitioners typically start the middle of things by taking large firms as representative of business and addressing their ethical issues. That sometimes leads to over-generalizing, e.g., by taking the hierarchical social structure of corporations as their defining trait, or to analyzing business in terms of top-down political models.
Instead, I will argue that business ethics should begin where business begins, which is with entrepreneurship. We do live in an increasingly entrepreneurial economy. But it has also been true for a long time that most people do not work in mid-to-large corporations. Rather, they are sole proprietors, or in a partnership, or in a family firm, or in an entrepreneurial venture. Also, every large corporation began as an entrepreneurial venture.
So my thesis is that by situating ethics first in an entrepreneurial context, we can better identify the core values, virtues, and vices of business. Then we can address how those ethical issues scale as the business succeeds or fails at growing into large corporation.