01.08.2016 | Original Article | Ausgabe 16/2016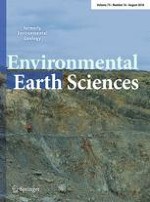 Environmental assessment of leachate transport in saturated homogeneous media using finite element modeling
Zeitschrift:
Autoren:

S. P. Markhali, M. Ehteshami
Abstract
A landfill with considerable length and width, despite its depth, was assumed, and a new two-level time-stepping iterative algorithm has been employed to develop a 1-D finite element model to predict leachate transport through a saturated homogeneous soil layer beneath the landfill. In order to verify the model, results obtained from numerical computations were compared with the analytical solution of transport equation. The comparison demonstrates a good agreement between analytical and numerical calculations, in which
R
2
is higher than 98 % and maximum squared error is <10 % for all scenarios. For validation purpose, an annual measured concentration of chloride ion in Saravan landfill (Iran) has been used to compare with the computed data. The comparison shows that
R
2
is more than 97 % and the mean squared error is <30 %, which demonstrates the model's ability to follow the leachate concentration for specific time and space in real-life issues. Moreover, to evaluate the role of each process in contaminant transport, a sensitivity analysis has been conducted through which the dominance of advection process has been revealed. To be more accurate, Peclet number criterion was employed to evaluate the role of each process in contaminant concentration. Analyses confirmed that even though advection process is dominant in most parts of soil layer below the landfill, the effects of diffusion term on transport equation are not negligible.