01.06.2011 | Original Article | Ausgabe 3/2011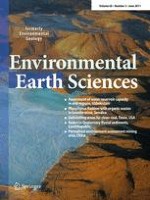 Environmental biogeochemical characteristics of rare earth elements in soil and soil-grown plants of the Hetai goldfield, Guangdong Province, China
Zeitschrift:
Autoren:

Li Miao, Yueliang Ma, Ruisong Xu, Wen Yan
Abstract
Very few studies deal with the biogeochemical behaviors of rare earth elements (REEs) in goldfields. This paper presents the geochemical and biogeochemical characteristics of REEs within the soil–plant system in the Hetai goldfield, Guangdong, China. The samples from the goldfield region show anomalies in distribution patterns and behavioral characteristics of REES as compared with those from the background areas. The REEs in rocks, soils, and plants prove to be much higher than those in the surrounding regions. The distribution patterns of REEs are characterized by LREE-enrichment and HREE-depletion, with the REE concentrations in Layer A being the highest. Differentiations between LREEs and HREEs may lead to some extent of negative Eu anomaly in the soils. Research results demonstrate that the REEs in a soil profile can be transferred and accumulated during the mineral formation and supergenic geochemical processes, and the anomalies are obviously related to the geological settings for the REE-bearing ore-forming processes and to the geochemical characteristics of the habitats for the REE-bearing plants. For
Dicranopteris dichotoma,
the total amount of REEs in the tissues shows an order of leaf > root > stem, while for
Pinus massoniana
the order becomes root > leaf > stem. The distribution patterns of REEs in
Pinus massoniana
leaves are similar to those in soils where the plants grow up in the mineralization area. However, in the background areas the REE distribution patterns for
Pinus massoniana
stems are similar to those for soils where the plants grow up. Parameters such as biological absorption coefficients and biological transfer coefficients show the differences in REE absorption features among plants and indicate that REEs can be transferred among plant organs. The two coefficients can reveal the different survival mechanisms for the two plant species, which are subject to long-term REE-affected stress conditions in the gold mineralization zone.