01.05.2019 | Original Article | Ausgabe 10/2019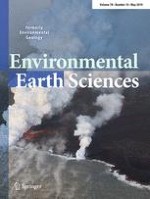 Environmental evolution of the Paliouras coastal lagoon in the eastern Thermaikos gulf (Greece) during Holocene
Zeitschrift:
Autoren:

Olga Koukousioura, Margarita D. Dimiza, Eleni Kyriazidou, Maria V. Triantaphyllou, Georgios Syrides, Elina Aidona, Konstantinos Vouvalidis, Ioannis P. Panagiotopoulos, Lambrini Papadopoulou
Wichtige Hinweise
Publisher's Note
Springer Nature remains neutral with regard to jurisdictional claims in published maps and institutional affiliations.
Abstract
The integration of lithology determination, micropaleontological and molluscan analyses, scanning electron microscopy, magnetic susceptibility measurement, and radiocarbon dating contributed to the interpretation of a sedimentary succession recovered from a 870-cm long borehole drilled at the Paliouras coastal lagoon in the eastern Thermaikos gulf (Greece). In this way, the reconstruction of the creation and evolution of the lagoon during the last 8000 years was accomplished. Four main evolutionary phases are identified: (1) initially, the pre-Holocene basement of the study area was inundated during the early Holocene marine transgression; (2) since ~ 8000–7900 cal yr BP an inner lagoon had been formed in the Paliouras coastal plain, within a rather restricted environment characterized by a
Haynesina germanica, Cerastoderma glaucum
and
Hydrobia
sp. assemblage, relatively high sediment magnetic susceptibility and an intense presence of abnormal foraminiferal tests and lenticular gypsum crystals; (3) during 7600–6900 cal yr BP, the inner lagoon presented a transition to an open system, clearly connected to the sea and characterized by an
Ammonia beccarii, Aubignyna perlucida
, and miliolids assemblage, more diversified molluscan fauna, minimum sediment magnetic susceptibility and the occurrence of lenticular gypsum aggregates; and finally (4) since ~ 5900 cal yr BP to the present time, the lagoon water body appears isolated from the marine environment, except of occasional seawater intrusions. The proposed evolutionary scenario for the Paliouras coastal lagoon is in accordance with the existing models of the sea level rise in the Aegean coastal areas concerning the time span before 4000 yr BP and the mid-late Holocene climate events.