01.09.2016 | Thematic Issue | Ausgabe 18/2016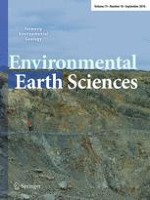 Environmental factors contributing to avian influenza risk in Poyang Lake region, China
Zeitschrift:
Autoren:

Xiaowen Li, Jing Yang, Shanqian Huang, Tao Zhang, Jianyu Chang, Bing Xu
Wichtige Hinweise
This article is part of a Topical Collection in Environmental Earth Sciences on "Environment and Health in China II", guest edited by Tian-Xiang Yue, Cui Chen, Bing Xu and Olaf Kolditz.
Abstract
The avian influenza (AI) virus isolated from and adapted to an avian host could cause high morbidity, mortality and enormous economic losses in poultry farming. Epidemiological field investigation was performed to study environmental conditions for infected poultry, which possibly spread avian influenza viruses in the Poyang Lake region. A total of 1695 cloacal and oropharyngeal samples were collected in 54 sites in September and December of 2009. Among which, 16 sites with positive samples were confirmed by viral typing and sequencing. The results showed that the highest viral isolation rate was found in live poultry markets. Subsequently, a cross-sectional study was performed to identify environmental risk factors contributing to infection using logistic regression analysis. Based on the predictive model, a risk map was developed to improve our understanding on risk distribution and likelihood of local circulation of avian influenza viruses. In conclusion, (1) the local live poultry market serves as major source of risk for avian influenza; (2) the closer to the administrative centers of counties and the Poyang Lake, the higher is the probability of infection in birds; (3) the human settlements in western, southwestern and southeastern parts of the Poyang Lake were exposed to high risks. Based on the risk factors, combined measures should be taken to control and prevent the avian influenza transmission.