2019 | OriginalPaper | Buchkapitel
33. Environmental Impact Assessment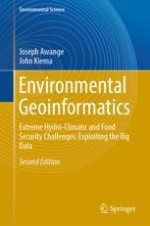 Erstes Kapitel lesen
Autoren: Joseph Awange, John Kiema
Abstract
Environmental Impact Assessment (EIA) is defined by Munn [
2
] as the need to
identify
and
predict
the impact on the environment and on man's health and well-being of legislative proposals, policies, programs, projects, and operational procedures, and to interpret and communicate information about the impact. EIA is thus a process, a systematic process that examines the environmental consequence of development actions in advance [
3
, p. 4]. Glasson et al. [
3
] have defined the purpose of EIA as an
aid to decision making
,
an aid to the formulation of the development actions
, and
an instrument to sustainable development
. In order to achieve these goals, EIA requires monitoring data that can be used to identify and predict impacts, and also to evaluate the impacts of a given project once approved. Whereas EIA has been traditionally restricted to projects that are deemed to have significant impacts on the environment, it has recently expanded to include
strategic environmental assessment
(SEA) discussed in Sect.
33.4
and
sustainability assessment
(SA) presented in Sect.
33.5
.