2019 | OriginalPaper | Buchkapitel
Environmental Impacts of AHD on Egypt Between the Last and the Following 50 Years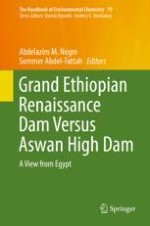 Erstes Kapitel lesen
Autoren: El-Sayed Ewis Omran, Abdelazim Negm
Abstract
Egypt will be affected by a countrywide freshwater and energy shortage as early as 2025. The construction of the Aswan High Dam (1964–1971) opened a new chapter in the long and celebrated history of the Nile River with respect to its chemistry, biology, and influence on Egyptian life. Built under a storm cloud of controversy, the Aswan High Dam (AHD) has stood simultaneously as a symbol of the highest in engineering achievement and an example of an environmental threat. The objective of this chapter is to place in perspective important environmental issues related to the AHD. The AHD has now been operational for 50 years. Analysis of the AHD impacts obviously indicates that overall, they have been overwhelmingly positive for Egypt. Based on data gathered over the past decades, this chapter reviews the environmental (positive and negative) impacts of the AHD.
AHD would give Egypt protection against drought and flood. For example, droughts happened between 1979 and 1987 and flood between 1998 and 2002 had no influence on water supply downstream from Aswan. Other AHD benefits were (1) production of electricity, (2) providing water for agricultural land reclamation, (3) converting basin irrigation with perennial irrigation, (4) expanding rice production, (5) development of a fishery in the reservoir formed by the AHD, and (6) improvement of river navigation due to steady water level downstream from the AHD.
The Nile is a silt-bearing river, and the Nile Delta and Valley in Egypt are composed of its sediments. The sedimentation rate in the pre-High Dam era was estimated at 0.6–1.5 mm year−1 with an average rate of 0.8 mm year−1, used to cover the surface of agricultural soil in Egypt. Since 1964, this annual rate ceased to reach the soil surface, with the following consequences. The AHD has faster the coastline erosion (due to lack of sediment brought by the Nile) in Egypt. Problems created by sedimentation are lake infilling, erosion downstream of dam, deepening of the Nile Delta, and loss of nutrients to farmlands and Delta estuary. The incidence of schistosomiasis or bilharzia increased due to the AHD blocking the natural fluctuations in water height. Important factors contributing to the occurrence of schistosomiasis were poor sanitation and limited awareness of how the disease was transmitted.
The (positive and negative) analysis of selected impacts made in this chapter should provide a clear indication of the difficulties of assessing impacts of any large hydraulic structure.