04.09.2015 | Original Paper | Ausgabe 3/2016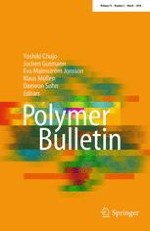 Environmental-sensitive chitosan-
g

-polyacrylamide/carboxymethylcellulose superabsorbent composites for wastewater purification I: synthesis and properties
Zeitschrift:
Autoren:

Hafida Ferfera-Harrar, Nacera Aouaz, Nassima Dairi
Abstract
Superabsorbent composites made of chitosan-graft-polyacrylamide and carboxymethylcellulose (CTS-
g
-PAAm/CMC) were prepared through free radical graft copolymerization of acrylamide (AAm) onto chitosan backbone, and the obtained superabsorbents were also partially hydrolyzed. The formation of the grafted network was evidenced by attenuated total reflectance Fourier transform infrared spectroscopy (ATR-FTIR), differential scanning calorimetry (DSC), and thermogravimetric analysis (TGA). Scanning electron microscopy (SEM) showed a porous structure. TGA studies revealed that the synthesized CTS-
g
-PAAm hydrogels are thermally more stable than CTS or PAAm compounds and the addition of the CMC in the network slightly affects the thermal stability. The effects of some polymerization variables, including the contents of CTS, crosslinker, CMC and hydrolysis treatment on the swelling capacities of the superabsorbents were examined in distilled water, saline solution (NaCl 0.9 wt%) and various pH solutions. The water absorbency decreased upon increasing the CTS content in the network, while it enhanced by adding CMC with highest value at 2 wt% of CMC. The swelling kinetics was found to obey second-order model. Also, the hydrolysis not only greatly optimized the absorption capacities but also improved the swelling rates, salt-resistant abilities and pH responsiveness. The optimized composites displayed a good reswelling ability. The antimicrobial activity assays against
Staphylococcus aureus
(
S. aureus
) and
Escherichia coli
(
E. coli
) showed moderate inhibition of bacteria growth. Besides, the presence of CMC in the composites affected the enzymatic degradation rates in both lysozyme and active slurry solutions but without significantly changing their whole biodegradability. These results suggest that these materials are promising candidates for technical applications, especially in wastewater purification.