2012 | OriginalPaper | Buchkapitel
4. Environmental Setting and Temporal Trends in Southeastern Gulf Coral Communities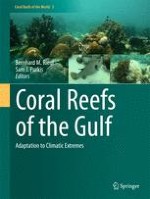 Erstes Kapitel lesen
Autoren: Kristi Foster, Greg Foster, Ashraf S. Al-Cibahy, Suaad Al-Harthi, Sam J. Purkis, Bernhard M. Riegl
Verlag: Springer Netherlands
Abstract
The majority of coral reefs are found in tropical environments between 25°N and 25°S, where typical seawater temperatures and salinities are between 18°C and 31°C and 34–37 ppt, (Kleypas et al. 1999; Veron 1986). The marine environment of the southeastern Arabian Gulf is singularly harsh; the coral communities in this high-latitude region (i.e. between 24°09′N and 25°40′N) are exposed to natural conditions that exceed threshold limits of corals elsewhere in the world, with temperature ranges between 14°C and 36°C (Kinzie III 1973; Shinn 1976) and salinities above 40 ppt. Less than one-third of the scleractinian species that are found in the neighboring Gulf of Oman have adapted to survive in the Arabian Gulf (e.g.
Acropora
spp.,
Porites
spp., faviids and siderastreids) (Riegl 1999; Coles 2003; Rezai et al. 2004; Claereboudt 2006). Other benthic taxa that are common in the Gulf of Oman but are absent from the Arabian Gulf include the coral genera
Montipora
,
Pocillopora
, and
Goniopora
spp., fungiids, oculinids, alcyonaceans, and massive sponges. The adaptations of some taxa to extremes of temperature and salinity and the exclusion of other taxa are of interest to scientists studying the impacts of global climate change on coral reefs and other marine organisms.