2017 | OriginalPaper | Buchkapitel
Environmental Software Systems in National Park Monitoring and Management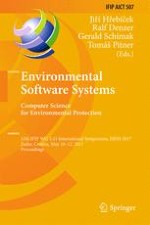 Erstes Kapitel lesen
Autor: Peter A. Fischer-Stabel
Abstract
National Park (NP) Monitoring and Management is dealing with dozens of different data where the provenience of the data is as manifold as the fields covered in the monitoring process. International, national, and federal responsibility is found as well as NGO databases, crowd sourcing applications or dedicated field surveys in R&D – activities of single research groups. Environmental software systems are intelligent pencils to manage, analyse and visualize the environmental- but also the administrative data coming from the different sources mentioned. The paper emphazises different fields of activity in NP monitoring and management and is presenting software systems in use in the NP Hunsrück-Hochwald (Germany).
In general, the software systems used are mostly highly adopted to the individual needs of a NP. This depends on specific landscape, features, or the research focus in the park, to name but a few. The software solutions are realized as a customization of standard software products, or, as individual software packages, designed and developed according to the special requirements of the fields of activity in a dedicated park.
Regarding the future developments, there will be no significant changes: the heterogeneity of the data and software used will be similar as it was in the past or it is recently. Because of the long-lasting perspective in NP research and management, one important action the NP administration should focus on: a proper documentation of methods, datasets, publications and information systems targeting the NP, to make monitoring and management activities transparent, accessible and ready for future re-use.