13.06.2019 | Ausgabe 5/2019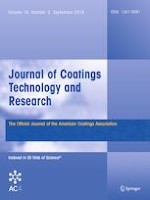 Environmentally friendly Zn–Al layered double hydroxide (LDH)-based sol–gel corrosion protection coatings on AA 2024-T3
Zeitschrift:
Autoren:

R. Subasri, K. R. C. Soma Raju, D. S. Reddy, A. Jyothirmayi, Vijaykumar S. Ijeri, Om Prakash, Stephen P. Gaydos
Wichtige Hinweise
Publisher's Note
Springer Nature remains neutral with regard to jurisdictional claims in published maps and institutional affiliations.
Abstract
Zn–Al layered double hydroxide (LDH) intercalated with various corrosion inhibitors namely vanadate (E1), 2-mercapto benzothiazole (E3), molybdate (E7), phytic acid (E8) and 8-hydroxyquinoline (E9) was dispersed in a hybrid sol–gel silica matrix sol. Bilayer coatings with configurations E3|E1, E7|E1, E8|E1 and E9|E1 were generated on aluminum alloy AA 2024-T3 substrates using the inhibitor intercalated LDH modified sols by dip coating technique followed by UV curing and thermal curing at 80°C for 1 h in air. Corrosion resistance of coatings deposited from matrix sol with and without inhibitor intercalated LDH was studied by electrochemical impedance spectroscopy, potentiodynamic polarization after exposure to 3.5% NaCl and salt spray tests, results of which were compared with those of uncoated and chromated substrates. A non-chromated primer was applied on the sol–gel coated substrates. Adhesion of the coatings to the substrate and to the primer was evaluated by peel-off tape test and found to be rank 5. The sol–gel coated substrates did not exhibit corrosion during salt spray tests. Electrochemical tests showed that all the sol–gel coated substrates exhibited superior corrosion resistance when compared to bare and chromated substrates. More specifically, coatings generated using the corrosion inhibitors phytic acid and 8-hydroxy quinoline intercalated Zn–Al LDH were seen to render maximum corrosion protection, exhibiting two orders of magnitude lower corrosion currents than bare substrates and one order lower corrosion current than chromated substrate, after 120-h exposure to 3.5% NaCl solution.