27.03.2019 | Original Research | Ausgabe 7/2019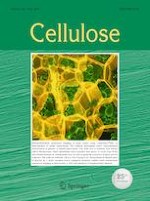 Enzymatic production of cello-oligomers with endoglucanases
Zeitschrift:
Autoren:

Stefanie Kluge, Benjamin Bonhage, Jörn Viell, Mari Granström, Alois Kindler, Antje C. Spiess
Wichtige Hinweise
Electronic supplementary material
Publisher's Note
Springer Nature remains neutral with regard to jurisdictional claims in published maps and institutional affiliations.
Abstract
Cello-oligomers have a wide application range and are gained from three different cello-oligomer production paths, which show different drawbacks, namely acid or alkaline hydrolysis of cellulose, chemical or enzymatic synthesis, and enzymatic hydrolysis of cellulose using cellulase mixtures. Therefore, this study aims at a novel route towards cello-oligomers using purified endoglucanases. From the renewable raw material cellulose, pretreated by an ionic liquid, cello-oligomers with a weight average degree of polymerization (DPW) of 65 were directly obtained by enzymatic hydrolysis. During hydrolysis, between 14.1 and 24.5 mass percent of monomeric and dimeric sugars were formed as byproduct. A second ionic liquid pretreatment of the cellulose, remaining after the first hydrolysis, and a second enzymatic hydrolysis resulted in cello-oligomers with a DP of 35. XRD deconvolution and Raman analysis confirmed that crystallinity remained unchanged during enzymatic cellulose hydrolysis.
Graphical Abstract
×