01.07.2009 | LIFE CYCLE IMPACTS OF BIOPROCESSES | Ausgabe 5/2009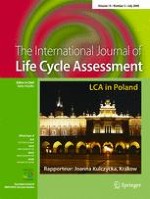 Enzymes for pharmaceutical applications—a cradle-to-gate life cycle assessment
Zeitschrift:
Autoren:

Seungdo Kim, Concepción Jiménez-González, Bruce E. Dale
Wichtige Hinweise
Responsible editor: Per H. Nielsen
Abstract
Background, aim, and scope
During the last decade, the interest in estimating environmental life cycle impacts of bioprocesses has markedly risen. To adequately quantify these impacts, accurate life cycle inventories of materials, such as agricultural substrates and enzymes, are required. The goals of this life cycle assessment were (1) to estimate the life cycle inventories (LCIs) and impacts of three supported enzymes produced in-house for pharmaceutical applications (A, B, and C) and (2) to determine the suitability of applying modular life cycle inventory estimation techniques to enzymes when individual enzyme LCIs are not readily available. The scope of this LCA was cradle to gate, covering the production and purification of the enzymes, energy generation, raw material production, waste treatment, and transportation of the raw materials.
Materials and methods
Three immobilized enzymes (A, B, and C) produced industrially for application in pharmaceutical products were studied. Enzyme production information was obtained from internal process descriptions. LCI information was obtained from GlaxoSmithKline's in-house LCA database FLASC™, from LCA commercial databases, and literature. The LCI for the enzyme support was estimated using its material flows. Mass allocations were applied to multi-output processes in the upstream processes. The life cycle impacts considered were nonrenewable energy consumption, global warming, acidification, eutrophication, and photochemical smog formation.
Results and discussion
Life cycle impacts of the immobilized enzymes A, B, and C were estimated. For instance, nonrenewable energy use is between 117 to 207 MJ/kg of immobilized enzyme and the global warming potential ranges from 16 to 25 kg CO2 eq/kg immobilized enzyme. Contributions of different subprocesses were also estimated. For example, support production accounts for about 31% to 67% of the energy consumption and soybean protein and yeast extract account for about 64% to 72% of the total photochemical smog formation. Uncertainty and sensitivity analysis were performed using Monte Carlo simulation and showed that a standard deviation of the environmental impact is less than 7% of the mean in all the environmental impacts considered. "What if" analysis shows that using biobased glycerin instead of petroleum-based glycerin could reduce global warming impacts between 11% and 44%.
Conclusions, recommendations, and perspectives
The production of immobilized enzyme is, in general, energy intensive. Enzyme A has larger environmental impacts than the other enzymes evaluated because of larger energy intensity and lower enzyme production yield. The media preparation inputs (soybean protein, yeast extract) and immobilization subprocesses are the two major contributors to acidification, eutrophication, and photochemical smog formation. Immobilization is the major contributor for global warming potential. "What if" analysis estimated changes on life cycle impacts for biobased vs. synthetic substrates. The results of this LCA are, in general, comparable with results previously reported in the literature (Nielsen et al., Int J Life Cycle Assess 12(6):432–438,
2007
). Therefore, using this technique to estimate LCI of enzymes appears to be suitable for future life cycle assessments of biocatalyzed processes. The results of this study will be integrated into GlaxoSmithKline's FLASC™ to improve the accuracy of life cycle assessment for biocatalyzed processes and enzymes produced in-house.