2014 | OriginalPaper | Buchkapitel
105. Enzymolysis and Microbial Transformation of Geniposide in Gardenia Jasminoides into Genipin by
Aspergillus niger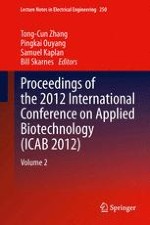 Erstes Kapitel lesen
Autoren: Yu Li, Wenbin Jin, Wei Jing, Mengcheng Yao, Yanyang Tang, Fuping Lu
Verlag: Springer Berlin Heidelberg
Abstract
A filamentous fungi strain,
Aspergillus niger
, producing β-glucosidase was screened to transform geniposide in traditional Chinese medicine Gardenia jasminoides into genipin. The conversion rate of gardenia hydrolyzed by β-glucosidase which had been extracted from fermentation broth of
A. niger
could reach 15 % at the enzyme concentration of 5 %, enzyme digestion time of 40 min, temperature at 50 °C. On the other hand, genipin was achieved with the method of microbial cell transformation. The optimum conversion conditions by cells were: β-glucosidase activity dose 10.12 U/mL at a fermentation time of 96 h, rotation speed of 180 r/min, medium capacity of 50 mL and gardenia concentration of 10 %. By HPLC analysis, the maximum conversion efficiency of 22 % was achieved. By this way, conversion efficiency was increased by 7 % and the extraction process was saved compared with enzymatic hydrolysis method.