2016 | OriginalPaper | Buchkapitel
Epidemic Models With and Without Mortality: When Does It Matter?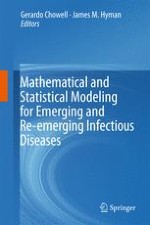 Erstes Kapitel lesen
Autoren: Lisa Sattenspiel, Erin Miller, Jessica Dimka, Carolyn Orbann, Amy Warren
Abstract
We use an agent-based computer simulation designed to model the spread of the 1918 influenza pandemic to address the question of whether, and if so, when disease-related mortality should be included in an epidemic model. Simulation outcomes from identical models that differ only in the inclusion or exclusion of disease-related mortality are compared. Results suggest that unless mortality is very high (above a case fatality rate of about 18 % for influenza), mortality has a minimal impact on simulation outcomes. High levels of mortality, however, lower the percentage infected at the epidemic peak and reduce the overall number of cases because epidemic chains are shortened overall, and so a smaller proportion of the population becomes infected. Analyses also indicate that high levels of mortality can increase the chance of oscillations in disease incidence. The decision about whether to include disease-related mortality in a model should, however, take into account the fact that diseases such as influenza, that sicken a high proportion of a population, may nonetheless lead to high numbers of deaths. These deaths can affect a real population's perception of and response to an epidemic, even when objective measures suggest the impact of mortality on epidemic outcomes is relatively low. Thus, careful attention should be paid to the possibility of such responses when developing epidemic control strategies.