2019 | OriginalPaper | Buchkapitel
8. Epigene and Hypogene Karst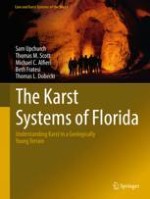 Erstes Kapitel lesen
Autoren: Sam Upchurch, Thomas M. Scott, Michael C. Alfieri, Beth Fratesi, Thomas L. Dobecki
Abstract
Karren development on the upper surfaces of limestone varies in Florida. Karren forms created by chemically aggressive water flowing over rock surfaces are rare. Grikes, pinnacles, and other karren formed by infiltration of groundwater into porous limestone or along fractures are common in Florida limestones. Vertical shafts (solution pits or channels) are common in some areas. Because they are normally hidden under cover materials, it is unusual to be able to observe karren features.
Duricrusts developed on the upper-most limestone surfaces are composed of laminated crusts, calcite cemented sand, calcitic debris, marine sediments, limestone breccia, terra rossa soils, and thin crusts of recrystallized calcite. While caliche is usually associated with arid environments, common artifacts of caliche development are present in Florida as vadose pisolites and rounded and recemented limestone rubble. Both duricrusts and caliche are formed by repeated wetting and drying of calcium-carbonate sediments.
The Cody Scarp (escarpment) is Florida's best example of the development of fluviokarst. Sinking streams, swallets, traces, and springs characterize the escarpment and karst plains formed by headward erosion and the intersection of streams and limestone near the toe of an escarpment.
Phytokarst developed on rocky shores by dissolution and grazing of algae and fungi by herbivores is found on the rare coastal exposures of limestone in southeastern Florida, and microkarst is well developed in the Rock Glades and Everglades physiographic provinces where limestone is subaerially exposed.
Possible hypogenetic karst includes sulfuric acid or freshwater/saltwater mixing-zone speleogenesis. The Upper Floridan Aquifer (UFA), Lower Floridan Aquifer (LFA), and anhydrite-bound Cretaceous strata contain examples of possible hypogenetic karst.