2020 | OriginalPaper | Buchkapitel
8. Epilogue: What Does the Global Future Hold?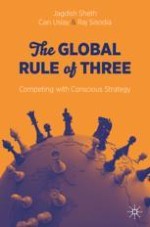 Erstes Kapitel lesen
Autoren: Jagdish Sheth, Can Uslay, Raj Sisodia
Abstract
The authors provide a retrospective review of macro-level trends and identify the preeminence of entrepreneurial drive for economic growth in the twenty-first century. Entrepreneurship is more universal, more inclusive, more egalitarian, more innovative, and more future positive than capitalism. It is the great equalizer that gives back and helps us realize human potential. In many ways, it is a nation's true competitive advantage. The authors reiterate the underlying principles and summarize the key takeaways from the Global Rule of Three. Entertainment, trucking, retail, automotive, insurance, and financial services will all see more turbulence over the next decade than they have seen over the last 30 or in some cases even 100 years. However, mega-trends prevail no matter the turbulence, and governing dynamics of such as the Five Forces and the Global Rule of Three persist and overcome the test of time. In the aggregate analysis, the growth story of the first third of the twenty-first century will belong to China, second third to India, and the final stretch will belong to Africa.