16.12.2016 | Ausgabe 2-3/2017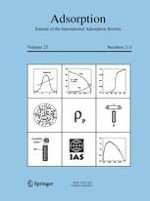 Equilibrium and kinetics of adsorption of high molecular weight
n

-paraffins on a calcium LTA molecular sieve
Zeitschrift:
Autoren:

V. I. Águeda, M. A. Uguina, J. A. Delgado, M. T. Holik, D. Aranda, I. D. López, J. J. Lázaro, J. Peláez
Abstract
n
-Paraffins are extensively used in the fabrication of detergents. These linear hydrocarbons can be selectively separated by adsorption from petroleum fractions using the appropriate adsorbent. Equilibrium and kinetic parameters are necessary to develop and design an adsorption process. These parameters are available in the literature for light paraffins in vapour phase, however there is scarce information concerning high molecular weight paraffins in liquid phase. The aim of this work is to study the equilibrium and kinetics of high molecular weight
n
-paraffins such as C10, C14 and C18 on a calcium LTA molecular sieve (5 A zeolite) in liquid phase. Pentane has also been analysed as it is mainly used as desorbent in the cyclic simulated moving bed (SMB) adsorption–desorption process of paraffins. A theoretical model has been developed to describe the column adsorption dynamics of the studied systems. The model has been included in a SMB simulation program, and the model prediction has been compared with the separation performance data reported for a commercial SMB unit that separates normal paraffins from a hydrotreated kerosene fraction.