01.03.2015 | Ausgabe 1/2015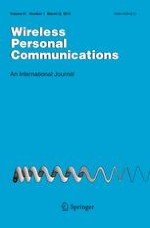 Ergodic Capacity of Nonlinear MIMO–OFDM Relaying Channels
Zeitschrift:
Autoren:

Ishtiaq Ahmad, Ahmed Iyanda Sulyman, Khaled Ali Abuhasel, Saleh A. Alshebeili, Awad K. Al-Asmari
Abstract
This paper derives the ergodic capacity of nonlinear MIMO–OFDM relaying communication channels. We consider MIMO–OFDM relaying system where the transmitter, relays, and the receiver are all equipped with
\(N_t\)
transmitting and
\(N_r\)
receiving antennas, and the high-power amplifiers (HPAs) at the transmitter and relays exhibit general nonlinear behaviors. We derive closed-form expressions for the ergodic capacity of the system for both the amplify-and-forward (AF) and decode-and-forward (DF) relaying protocols. Our results show that AF relaying incurs higher capacity loss due to HPA nonlinearity than the DF relaying. The results also indicate that high-order MIMO systems suffer more capacity loss due to HPA nonlinearity than low-order MIMO systems, and that more capacity loss are experienced in multihop relaying over nonlinear channels as more relay hops are involved. This analysis complements existing works in the literature, where the effects of HPA on the error rate performance of MIMO systems have been documented. It also helps to stress the need for highly linearized HPA when relaying methods of wireless transmissions are desired.