2019 | OriginalPaper | Buchkapitel
Ergonomic Evaluation Tools Associated with Biomechanical Risk Factors in Work Activities: Review of Literature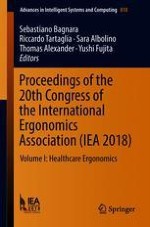 Erstes Kapitel lesen
Autoren: María José González Carvajal, Fernanda Maradei García, Clara Isabel López Gualdrón
Abstract
Objective:
Identify the most used evaluation tools in work situations that involve biomechanical and postural load. Through the literature review, it seeks to answer the following questions, which is the influence of the work or occupational ergonomics in the industry? What are the ergonomic evaluation tools most used in labor situation similar to surgical support? and What is the relation between working conditions and the appearance of symptoms associated with pain and occupational diseases?.
Method:
Were defined keywords related to main areas: Ergonomics, productivity and risk factors, with which it was subsequently made a literature review on these databases: PubMed, Springer, and ScienceDirect. Likewise, it is included in the review, documents related to OMS, OIT, Fasecolda, among others. The documents founded were classified taking into account the inclusion criteria like language (Spanish, English, and French) and the relation with interest topics. Finally, it has been made the analysis of content with Nvivo Software.
Results:
It has been identified that the most recurrent evaluation tools for studies, related to labor activities that involve biomechanical and postural load, were LEST, REBA and VAS methods. Likewise, it was identified the relation between biomechanical risk factors with labors activities that involve load lifting and handling.
Conclusions:
Similar Investigations on the surgical support in companies were reviewed, show that exist a tendency toward the appearance and development of MSDs of occupational origin, especially injuries at the lumbar level due to biomechanical demand of these activities.