2019 | OriginalPaper | Buchkapitel
Establishing Correlation Between Abiotic Stress and Isoprene Emission of Selected Plant Species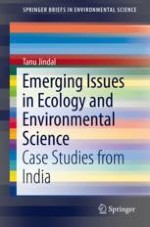 Erstes Kapitel lesen
Autoren: Pallavi Saxena, Chirashree Ghosh
Abstract
The atmospheric hydrocarbon budget influenced by a vast range of volatile organic compounds (VOCs) is both anthropogenic and biogenic in origin. Evolution of plant VOCs is a complex process affected by interactions of plants with biotic and abiotic factors in constantly changing environment but their functional role is still a matter of speculation. Isoprene (2-methyl 1,3-butadiene), a five-carbon hydrocarbon, is emitted from the leaves of many plant species. In the present study, isoprene emission potential of two urban plant species (
Dalbergia sissoo
and
Nerium oleander)
were measured using branch enclosure method at different selected sites on the basis of proximity to traffic density. In order to find out the dependence of isoprene emission with abiotic factors (temperature and photosynthetic active radiation PAR), regression analysis has been performed. In the case of
Dalbergia
sp. high temperature and PAR promote high isoprene emission during summer months. Thus, positive linear relationship gives the best fit between temperature, PAR, and isoprene emission rate during summer season as compared to other seasons, whereas in the case of
Nerium sp.
, no such appropriate relationship was obtained. The study concludes that
Dalbergia sissoo
comes under high isoprene emission category, while
Nerium oleander
comes under BDL (below detection limit) variety. For any greenbelt development program, it is very important to select the type of plant species to be planted. The present small study reflects that
Nerium oleander
should be planted in the outskirts of selected areas and that planting of
Dalbergia sissoo
should be done on low scale so that the air remains clean and indirect production of tropospheric ozone, aerosol production will be minimized.