03.03.2018 | Original Article | Ausgabe 6/2018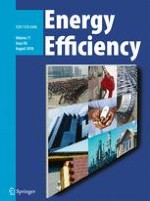 Estimating an economic-efficient frontier for dishwasher consumer choice
Zeitschrift:
Autoren:

Helcio Blum, Edson Okwelum
Wichtige Hinweise
Electronic supplementary material
This article has not been reviewed by its institutional funders. The assumptions, views and opinions expressed in the article are solely those of the authors, and do not reflect or represent any official view, opinion, position or policy of Lawrence Berkeley National Laboratory or any agency of the U.S. government.
Abstract
Dishwashers are a ubiquitous appliance in households in the USA. They combine capital, energy, and water to provide a relevant household service, namely dishwashing. The economic efficiency of dishwashers has been previously assessed using data envelopment analysis (DEA). The approach addresses the technical efficiency of dishwashers based on possible trade-offs between capital and energy. It further draws from the technical efficiency scores an efficient frontier for dishwashing based on these two input factors. We argue that water could also be a relevant input factor to that frontier, especially from the perspective of consumer choice. We develop a DEA model that includes water as an additional input and test if adding water to the analysis contributes to the efficiency frontier. We find that water does have some effect on the frontier, as the DEA model that includes water as an input factor leads to a richer set of efficient possibilities for dishwashing, where energy and water are traded off. We rely on our method and findings to propose two approaches to inform dishwasher consumer choice. One is extending an energy label to include dishwasher water consumption, as a means to inform consumers on their possible trade-offs between energy and water consumption at different levels of appliance price and quality. The other one is disclosing the DEA efficiency scores we estimate as an indicator of the overall economic efficiency of each dishwasher model.