2015 | OriginalPaper | Buchkapitel
Estimating Stability of Internal Overburden Dumps on the Inclined Foundation by Simplified Bishop Criterion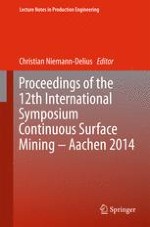 Erstes Kapitel lesen
Autoren: Bayan R. Rakishev, Oleksandr M. Shashenko, Oleksandr S. Kovrov, G. K. Samenov
Current development of open-cast mining is characterized by complication of geological conditions and increased requirements to reduce the negative environmental impact. A significant role in solving problems concerning management of mineral resources allocated to internal dumping and justification of such dump geometric dimensions which provide simultaneously stability and minimum spacing.
Stability of internal overburden dumps while surface mining depends on physical and mechanical properties of the rock mass, climatic factors, groundwater levels, shape and geometry of the foundation, and external loads. Complex influence of these factors leads to the emergence and outspreading geomechanical deformations in the dump core with the formation of rockslides, which complicate the mining operations and result in an increase of the specific mining capital expenditures. Therefore, effective management of open-cast mining technology, internal overburden dumping on inclined foundations is an important engineering issue.
Reliable estimation of high internal dumps stability in the conditions of gently sloping and inclined foundations by modern numerical geomechanical models allows optimize surface mining operations as a whole and decrease harmful impact on environment.
The paper deals with the estimating stability of internal dumps at open pit "Maikubenskiy" in Kazakhstan using GGU-Stability software. The safety factors for open-cast slopes depending on geomechanical properties of overburden mass, inclination of foundation and mining equipment loads by Bishop failure criterion are calculated. The most stable geometric parameters for internal dumps on the inclined foundation are determined.
This research was carried out at the Department of Hydrogeology and Engineering Geology of the RWTH Aachen University (Germany).