03.01.2018 | Ausgabe 2/2018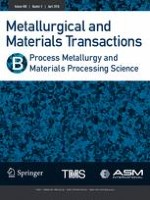 Estimation of the Temperature-Dependent Nitrogen Solubility in Stainless Fe-Cr-Mn-Ni-Si-C Steel Melts During Processing
Zeitschrift:
Autoren:

Marco Wendler, Michael Hauser, Eckhard Frank Sandig, Olena Volkova
Wichtige Hinweise
Manuscript submitted August 9, 2017.
Abstract
The influence of chemical composition, temperature, and pressure on the nitrogen solubility of various high alloy stainless steel grades, namely Fe-14Cr-(0.17-7.77)Mn-6Ni-0.5Si-0.03C [wt pct], Fe-15Cr-3Mn-4Ni-0.5Si-0.1C [wt pct], and Fe-19Cr-3Mn-4Ni-0.5Si-0.15C [wt pct], was studied in the melt. The temperature-dependent N-solubility was determined using an empirical approach proposed by Wada and Pehlke. The thus calculated N-concentrations overestimate the actual N-solubility of all the studied Fe-Cr-Mn-Ni-Si-C steel melts at a given temperature and pressure. Consequently, the calculation model has to be modified by Si and C because both elements are not recognized in the original equation. The addition of the 1st and 2nd order interaction parameters for Si and C to the model by Wada and Pehlke allows a precise estimation of the temperature-dependent nitrogen solubility in the liquid steel bath, and fits very well with the measured nitrogen concentrations during processing of the steels. Moreover, the N-solubility enhancing effect of Cr- and Mn-additions has been demonstrated.