01.10.2020 | Original Article | Ausgabe 19/2020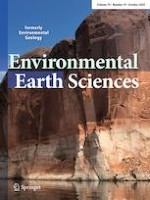 Estimation of total dissolved solids, electrical conductivity, salinity and groundwater levels using novel learning machines
Zeitschrift:
Autoren:

Mojtaba Poursaeid, Reza Mastouri, Saeid Shabanlou, Mohsen Najarchi
Wichtige Hinweise
Publisher's Note
Springer Nature remains neutral with regard to jurisdictional claims in published maps and institutional affiliations.
Abstract
In this study, the groundwater parameters including electrical conductivity (EC), salinity, total dissolved solids (TDS) and groundwater level (GWL) for a 15-year time series (from 2002 to 2017) of the Mighan Plain, located in Markazi Province, Iran, were simulated using a hybrid meta heuristic artificial intelligence (AI) model called "wavelet self-adaptive extreme learning machine" (WSAELM) for the first time. Initially, the detection of the most significant lags of the time-series data was conducted using the autocorrelation function (ACF) and the partial autocorrelation function (PACF) analyses. By using these lags, four WSAELM models were defined and then the superior models in simulating the TDS, EC, salinity and GWL were introduced. The values of the determination coefficient (
R
2
), Variance Accounted for (VAF) and the Nash–Sutcliffe efficiency coefficient (NSC) for the superior model simulating salinity were computed to be 0.991, 98.124 and 0.980, respectively. Also, approximately 44% of the TDS values modeled by the best model had an error less than 10%, while roughly a third of the TDS values estimated by the model had an error more than 15%. The findings indicated that the proposed hybrid model underestimated the GWL parameter, while it performed in an overestimate way for other parameters. The results of the uncertainty analysis showed the low width of uncertainty for GWL (WUB = ± 0.798), TDS (WUB = ± 5.035), EC (WUB = ± 6.425) and salinity (WUB = ± 66.650).