2017 | OriginalPaper | Buchkapitel
6. Estimation of Welfare Changes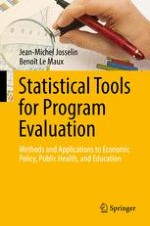 Erstes Kapitel lesen
Autoren: Jean-Michel Josselin, Benoît Le Maux
Abstract
Since public projects have consequences on individual lives, the estimation of welfare changes is an essential step in the evaluation process (Sect.
6.1
). To this end, this chapter gives several tools for eliciting individual preferences. The first set of methods consists of stated preferences techniques whereby individuals declare what their perceptions are of the project and its consequences. Those methods include contingent valuation and discrete choice experiment. The former consists in asking directly a sample of individuals their willingness to pay for a program (Sect.
6.2
). Discrete choice experiment on the other hand asks the agents to compare a set of public goods or services. It estimates a multi-attribute utility function based on the idea that agents' preference for goods depend on the characteristics they contain (Sect.
6.3
). The second set of methods comprehends revealed preferences techniques, where preferences are inferred from what is observed on existing markets. For instance, the hedonic pricing method values the implicit price of non-market goods, e.g., proximity of a school or air quality, from their impact on real estate market prices (Sect.
6.4
). In the same vein, the travel cost method estimates the demand for recreational sites based on the costs incurred by people for visiting the site (Sect.
6.5
). Last, the third set of methods is commonly used for the assessment of public health decisions. It aims to estimate directly the utility levels (e.g., QALY) associated with particular health states (Sect.
6.6
).