2017 | OriginalPaper | Buchkapitel
3. Estuaries, Lagoons, and Limans of the Marginal Seas of Northeast Asia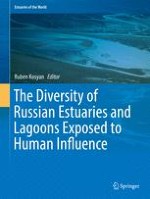 Erstes Kapitel lesen
Autoren: Petr Brovko, Yuri Mikishin, Tamara Ponomareva
Abstract
Lagoons and estuaries are widespread along the coasts of the Far Eastern Seas. These lagoons and estuaries became objects of active research only in the second half of the twentieth century.
On the shores of the Japan, Okhotsk and Bering Seas are located 240 lagoons, ranging in size from 1 to 1000 km2. A large portion of them are shallow lagoons, with depths of up to 5–6 m. Deep lagoons, with a depth of over 20 m, occur on the coasts of fjords.
For the last 25 years, the research has been complex and comprehensive. It involved studying the hydrological, hydrochemical and ice regimes of the lagoons, as well as the mechanical and chemical composition of bottom sediments, bottom biological communities, etc.
Estuaries can be divided into three types based on human impact: (1) – estuaries and lagoons that are still relatively pristine; (2) – estuaries and lagoons in the process of being degraded; and (3) – estuaries and lagoons that bore the full pressure of historical developments. For type (1), the case studies focus on the Nabyl Lagoon; for type (2), the case studies focus on the Amur Liman and the Busse Lagoon; for type (3), the case studies focus on Peter the Great Bay.
The major economic activities in these regions include oil and gas exploration, and the harvesting and processing of fish and marine products. Lagoons, estuaries, and limans play a significant role in transportation infrastructure: ports, channels, harbors, etc.