01.08.2013 | Ausgabe 1/2013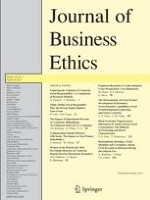 Ethical Culture and Employee Outcomes: The Mediating Role of Person-Organization Fit
Zeitschrift:
Autoren:

Pablo Ruiz-Palomino, Ricardo Martínez-Cañas, Joan Fontrodona
Abstract
We build on limited research concerning the mediation processes associated with the relationship between ethical culture and employee outcomes. A multidimensional measure of ethical culture was examined for its relationship to overall Person-Organization (P–O) fit and employee response, using a sample of 436 employees from social economy and commercial banks in Spain. In line with previous research involving unidimensional measures, ethical culture was found to relate positively to employee job satisfaction, affective commitment, and intention to stay. New to the literature, ethical culture was also found to be associated positively with employee willingness to recommend the organization to others. These effects were observed even when perceptions of P–O fit were controlled. Importantly, ethical culture was also positively related to overall P–O fit, which in turn, partially mediated the relationship between ethical culture and employee outcomes. Our findings add to studies that focus on the importance of the degree of ethical congruence between the individual employee and the organization. They suggest that ethical culture, with its expected impact on virtuousness and emotional well-being, will positively influence outcomes
independently
of the degree to which there is a match between employee and organizational values.