01.06.2015 | Ausgabe 4/2015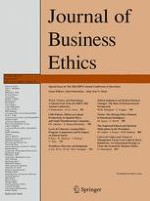 Ethical Judgment and Radical Business Changes: The Role of Entrepreneurial Perspicacity
Zeitschrift:
Autoren:

Massimiliano Matteo Pellegrini, Cristiano Ciappei
Abstract
This study examines the implications of practical reason for entrepreneurial activities. Our study is based on Thomas Aquinas' interpretation of such virtue, with a particular focus on the partition of practical reason in potential parts such as
synesis
, or common sense, and
gnome
, or perspicacity. Since entrepreneurial acts and actions deal with extremely uncertain situations, we argue that only this perspicacity, as the ability of correctly judging in exceptional cases, has the power to find wisdom under such blurred conditions. Perspicacity frees entrepreneurs from their cognitive schemata rendering them able to be truly entrepreneurial. Based on this vision and thanks to a semantic analysis of the meaning of the Greek word
gnome
, we construct an interpretative model for entrepreneurial judgment composed of three dimensions, specifically, knowledge-cognitive, external-affective and personal-reflective. The model highlights how a 'successful' entrepreneurial judgment is also such from a holistic point of view.