2016 | OriginalPaper | Buchkapitel
Ethically-Guided Emotional Responses for Social Robots: Should I Be Angry?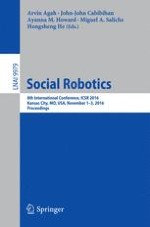 Erstes Kapitel lesen
Autoren: Suman Ojha, Mary-Anne Williams
Abstract
Emotions play a critical role in human-robot interaction. Human-robot interaction in social contexts will be more effective if robots can understand human emotions and express (display) emotions accordingly as a means to communicate their own internal state. In this paper we present a novel computational model of robot emotion generation based on appraisal theory and guided by ethical judgement. There have been recent advances in developing emotion for robots. However, despite the extensive research on robot emotion, it is difficult to say if a particular robot is exhibiting appropriate emotions or even showing that it can empathize with humans by exhibiting similar emotions to humans in the same situation. A key question is - to what extent should a robot direct anger toward a young child or an elderly person for an act that it should show anger towards an ordinary adult to signal danger or stupidity? Realizing the need for an ethically guided approach to emotion expressions in social robots as they interact with people, we present a novel Ethical Emotion Generation System (EEGS) for the expression of the most acceptable emotions in social robots.